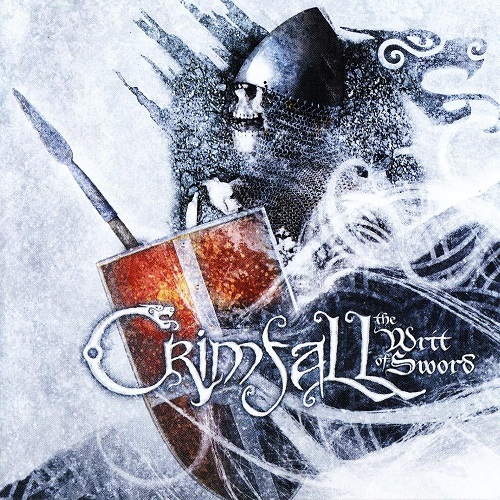 CRIMFALL - "The Writ Of Sword"
Label: Spinefarm Records
Release date: March 23rd, 2011
No se puede confiar en nada ya. Crimfall era otro grupo que presentó muy buenas formas en el momento de su debut, una especie de viking metal melódico, muy orquestal y con mucha fuerza. Ya por entonces estaba influenciado un poco por el death metal melódico, pero con este segundo LP se pasan mucho.
"The Writ Of Sword" sigue teniendo esa base folk y orquestal cercana al viking metal del "As The Path Unfolds...", pero el estilo death ya campa por sus respetos. De hecho sería una presunción decir que este disco es ya de metal extremo, sino que introduce tal componente de melodías que puede acercarse más a bandas como Oratory, Visions of Atlantis o incluso a Epica. Predominan mucho las voces femeninas, de cuando en cuando interrumpidas por la voz gutural masculina. Todo ello aderezado con muchos arreglos orquestales de por medio, lo que más que al viking metal evoca al metal sinfónico holandés.
Los temas en conjuto están muy bien, pero desde luego no obedece tanto al tipo de música que seguimos en este blog, lo que me ha supuesto una decepción. Crimfall está entre esos grupos, como Wolfchant, Eluveitie o Wulfgar que han ido pasando desde un estilo viking o folk a otro más cercano al death metal, y en todos ellos coincide una cosa: la entrada en compañías muy potentes: por ejemplo, Wolfchant en AFM o Eluveitie en la Nuclear Blast. Ahora con Crimfall sucede lo mismo, y entristece ver como el propio sistema discográfico de la música destroza así por si unos géneros de por si ya mermados. Si existe un control ya muy obvio en lo que se lanza a través de las radios comerciales en géneros más extendidos, como empecemos a hacer lo mismo nosotros mismos en este género, vamos muy jodidos. Por lo demás insisto en que el grupo hace bien lo que ha compuesto, aunque esté muy volcado a un death metal de corte épico.
La producción está sobresaliente, como cabe suponer. El grupo ha debido de contar con medios para pagarse unos estudios eficaces en que todos los sonidos, e incluso las bases orquestales, suenen con potencia, claridad y que no se pisen unos a otros. Me gusta como han quedado las guitarras, muy potentes y afiladas, y también las baterías, que ya es curioso que queden bien del todo, en especial los aéreos, que incluso es posible que estén un pelín sobresaturados.
Y todo lo dicho, que no es mal disco, pero que se aleja demasiado de los patrones iniciales del grupo en mi opinión, y que busca con demasiado descaro entrar en ese pastel tan suculento que es el metal épico-melódico, en lugar de insistir por la via medio vikinga que ya tenía abierta. Una auténtica lástima, pero aun así no es mal disco...
Tracklist:
Dicembre / 1:43
Storm Before The Calm / 5:56
Frost Upon Their Graves / 5:29
Cahceravga / 1:13
Shackles Of The Moirai / 5:01
The Writ Of Sword / 6:53
Geadgai / 4:34
Silver and Bones / 8:21
Son Of North / 5:48